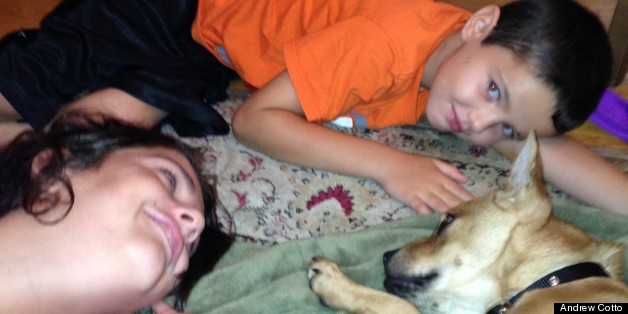 Andrew Cotto
Our family of four has been in a funk. My 11-year-old daughter became a tweener, so she's been spending a lot of voluntary time in her room alone. My 7-year-old son has become a wiener, at times, so he's been spending a lot of involuntary time in his room alone. My wife had been in the throes of a two-year tour of duty as a teacher, special-ed and general-ed, respectively, in the New York City public schools. She was fried.
When we were kids, the local pizzeria owner used to call my someday-wife-to-be "Smiley." His adoration was kind of creepy, but his observation was dead-on. My wife has one of those smiles that can stop a ship. She's dazzling, in so many ways, but especially with regard to her smile, since it concentrates the array of attributes which makes her so spectacular. The last few years have worn her out. She has spent upwards of 70 hours a week teaching and planning and dealing with the families of kids who are not her own. She still smiled, but it wasn't the same.
This summer was reckoning time. Change had to come. My wife resigned from the Department of Education and went in search of more amenable employment. She planned a family vacation to the Caribbean. And then she informed me that we were getting a dog.
I was cool with the job change and the Caribbean excursion. But a dog? I'd been fighting this for years, using my singular veto powers against a three-person coalition. Citing President Obama, against similar odds, as an example, and his promise to get a dog if he made it to the White House, I told the family if the movie rights were ever sold to one of my novels, we'd do the Obama thing and get a dog. A few years passed and no movie offers came. I thought they'd forget. They didn't.
My wife picked the perfect week to adopt: Post-Caribbean and before my daughter's departure for sleep-away camp. She stalked the website of the famous adoption outfit in the area and left pictures of adorable dogs looking for homes on our desktop. And my iphone. They had names like Meatball and Mickey and Perseval. They really were adorable, but, still, I wasn't on board. I just couldn't imagine another living creature in our ever-shrinking apartment full of increasingly disparate occupants.
The last couple of years had been hard on me, too. I lost my mother and my oldest friend. My "new" career as a teacher and a writer was getting old. I loved my work, and I'd had some success, but I was still cranking full-time in both capacities while also serving as the primary caregiver. I was fried, too.
But my wife persisted and, right on schedule — after the Caribbean and before my daughter left for camp – we were at the famous adoption outfit picking doggies out of cages. The kids loved every one of them, but the perfect fit was not there. Oh, well. Time for home. Ba-bye.
My wife dug in, and identified other rescue places. She found a farm near our old hometown that just happened to be the place where my oldest friend's widow had just adopted a dog for her family. We made plans to meet them there one morning and then have lunch together afterward back at their place.
They arrived with a spry little mutt named Rocky. The owner of the rescue recognized Rocky and wondered if we'd be interested in meeting his sister, Ally. Cue movie music here.
We adopted Ally and spent a magical afternoon watching her frolic with her brother in my oldest friend's backyard.
We brought our new dog back to the city and have spent the last few days acclimating her to her new environment. In many ways, the environment is new to all of us. It is one full of excitement and good will and giggles, of a family more together than apart. We are all happier.
Published on The Huffington Post: Dog Days Are Over (Thanks to the Dog)